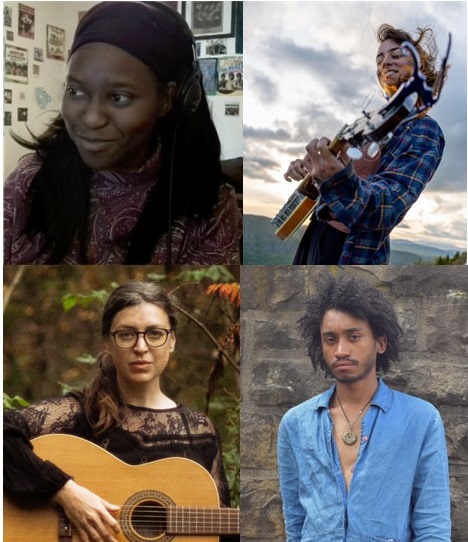 In March we bring together four of the freshest singer-songwriter voices in Pittsburgh. Liz McBride will share music and conversation with Lenni Green, Louie Castle and Ol' Whitetail:
Liz McBride (https://lizmcbride.bandcamp.com/) has been playing guitar since she was 7 and is predominantly self-taught. She has built her skills and her audience through the creation of web content and has released 9 albums. Originally from Youngstown, Ohio, Liz has been living and performing in Pittsburgh since she moved here in 2016 to attend Duquesne University. She graduated with her masters and has been working as an outpatient therapist since 2018. In addition to her beautiful and insightful songwriting, Liz gives new life to music you know and love with her own unique arrangements.
Lenni Green (https://lennigreen.bandcamp.com/) is a Multi-genre / Multi-instrumental / Composer / Songwriter / Producer. Originally on the track to receive a Master's degree in classical clarinet, Lenni Green has since taken her musical endeavors on a completely independent creative path, wearing many hats as a multi-instrumental, multi-genre songwriter, composer, producer, performer, and teacher.
Louie Castle (https://open.spotify.com/artist/6V9BlpjY5iESTRgYLm1XCt) returns to SongSpace with a blend of Latin roots, psychedelic rock, rap, gospel and freestyling, with a little jazz and soul thrown in for good measure. He's played everywhere from The Saturday Light Brigade community radio show to The Abbey in Lawrenceville and The Rocks Landing Bar & Grille in McKeesport, the Sleeping Octopus Art Jam, and more.
We're also very pleased to welcome Ol Whitetail (https://www.olwhitetail.com/) back to SongSpace. Ol' Whitetail is a singer-songwriter who grew up in rural northern Appalachia and lives in Pittsburgh, Pennsylvania. She uses literary devices and elements of visual design to create cinematic folk songs with hints of country blues, ragtime, and jazz. Her lyrics are inspired by philosophy, magic realism, activism, and nature. Her style of guitar playing is a variation on the Piedmont blues, inspired by Etta Baker.
More details at https://www.uusongspace.com/
Sanctuary
Schweitzer
Undercroft Gallery
Harper room
Band arrives at 3:00