Location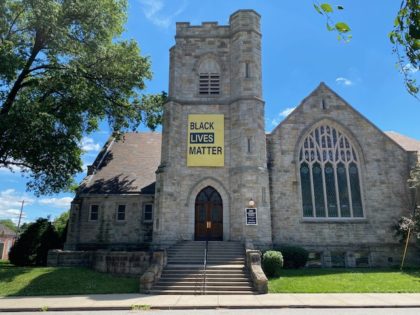 Located in Pittsburgh's neighborhood of Shadyside, at the corner of Morewood and Ellsworth Avenues. Conveniently accessed from local universities like CMU, Pitt, Carlow, and Chatham, and many Pittsburgh neighborhoods.  Learn about the accessibility of our building and programs. The congregation's office is open from 9:30 am to 4:30 pm Tuesday through Friday.
Entrances
For Sunday worship and other events you can use the Main Entrance on Ellsworth Ave.  Handicap Access is available from the church driveway on Morewood Ave. through the Garden Lobby.

Parking
Parking is available on the surrounding streets. You can park on either side of Ellsworth Avenue, on the church side of Morewood Avenue, or in the Winchester Thurston school parking lot across the street from the church when school is not in session. You can also be a bit more adventurous and park a little further away on Devonshire Street or Amberson Avenue. A bike rack is available at the Ellsworth entrance.
Handicap Access and the Church Driveway on Sunday Mornings
Please note that no parking is permitted on the right side of our church driveway on Sunday mornings. This is the side directly in front of the pathway to the Garden Lobby. This pathway provides access for members and visitors with mobility difficulties and must be kept clear.
The left side of the driveway ONLY may accommodate two vehicles with handicapped placards. If you are able-bodied, please also leave the parking spaces on Morewood Avenue between the driveway and the corner of Ellsworth free for individuals who need to be close.
Public Transit
Many Port Authority buses run past or near First Unitarian. You can obtain time and fare information directly from the Port Authority of Allegheny County website or by calling the Port Authority at 412-442-2000.
Directions
Our Google Maps link offers you door-to-door directions for driving, walking, biking, or public transit.