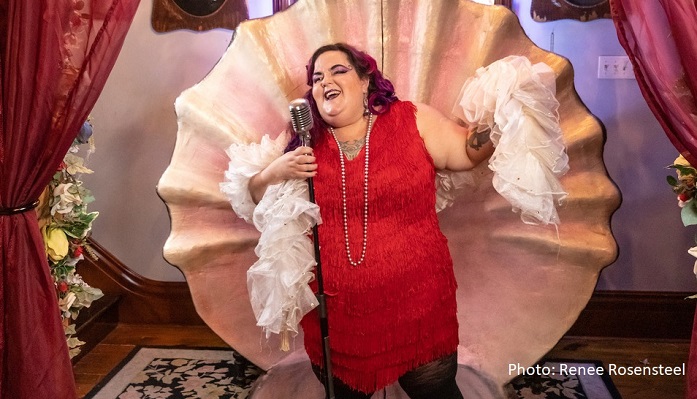 Phat Man Dee is a cosmic jazz cabaret vocalist, bandleader, events producer, videographer, poet, freelance sideshow marvel, music educator, occasional cellist, and social justice agitatrix. She regularly appears with her jazz group "The Cultural District," "The Lemington Gospel Chorale" directed by Pastor Deryck Tines, and "Social Justice Disco," a collaborative musical project with Liz Berlin. She performs live approximately 100 dates a year in nightclubs, theaters, educational facilities, private events, and festivals. She was voted #1 Best Local Jazz Act in the Best of Pittsburgh City Paper Reader's Poll of 2020.
Phat Man Dee works as a vocal coach to young people through two musical programs, the We Rock Workshop, directed by Liz Berlin of Creative Life Support, and the Afro American Music Institute, directed by Dr James Johnson and his wife Pamela Johnson, currently celebrating 40 years in existence. She has been awarded a "Love My Neighbor" grant from Neighborhood Allies to support her all-ages, community-oriented monthly jam session "Tune It! Tuesdays" which occurs every third Tuesday at Black Forge Coffee House.
Phat Man Dee has been called a jazz provocateur, and she sings & duets her original compositions and eclectic repertoire of standards in English, Spanish, French, German, and Hebrew. Her performance range is just as wide, spanning opera, theater, and burlesque. From blues to folk, from opera to indie, Mandee's range is nothing short of breathtaking.
Phat Man Dee will be performing with pianist Victor Garzotto, drummer Dennis Garner, and saxophonist Tony Campbell!