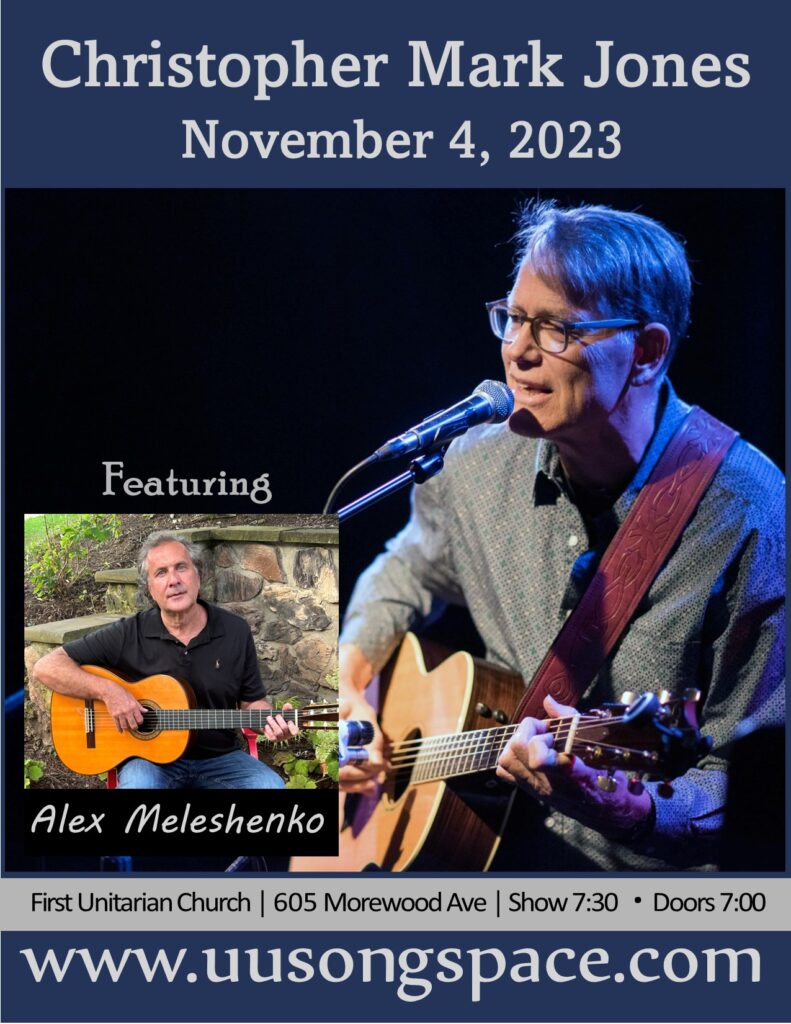 Saturday Nov 4, 7:30pm, at SongSpace! Christopher Mark Jones and his band, with Alex Meleshenko!

Christopher Mark Jones (https://christophermarkjones.com/) draws from folk, country, blues, jazz and r 'n' b sources to stage his literate folk rock meditations. Using diverse points-of-view to narrate and critique life and love in uncertain times, he invites listeners to think, feel and dance. Recorded and live arrangements leave space for his musical co-conspirators to both express their personalities and honor the host creation. Listeners hear echoes of "Greg Brown's pacing and a Lyle Lovett attitude" (Ben Shannon), as well as of John Prine, Bruce Coburn and Darrell Scott. Looking for the Light (2021) is his sixth recording of original folk/roots songs, while Montréal Encore (2022) is a French-language recording created in collaboration with the poet Bernard Pozier.

Alex Meleshenko (https://www.youtube.com/@alexmeleshenko4834) opens the show. Alex is one of Pittsburgh's most wonderful and best-kept secrets. Alex plays amazing instrumental pieces on guitar, ranging from Augustin Barrios and Miguel Llobet to Jerry Reed, Leo Kottke and more. If that weren't enough, Alex is an outstanding luthier, creating custom-built 6-, 12- and nylon-string guitars that are treasured by players and listeners alike. As a performer, Alex's goal is to send you to a peaceful place for a time of quiet reflection.

Doors 7:00pm
Show 7:30pm
General: $15 advance / $20 door
Student: $10 advance / $15 door
Or Pay what you Can – support live music in Pittsburgh at a level you can afford!

Advance tickets are available at uusongspace.eventbee.com.

SongSpace at First Unitarian
First Unitarian Church of Pittsburgh, Shadyside
605 Morewood Avenue, Pgh., 15213.
All ages; wheelchair accessible.
For more information: 412.621.8008,
uusongspace@gmail.com or uusongspace.com.