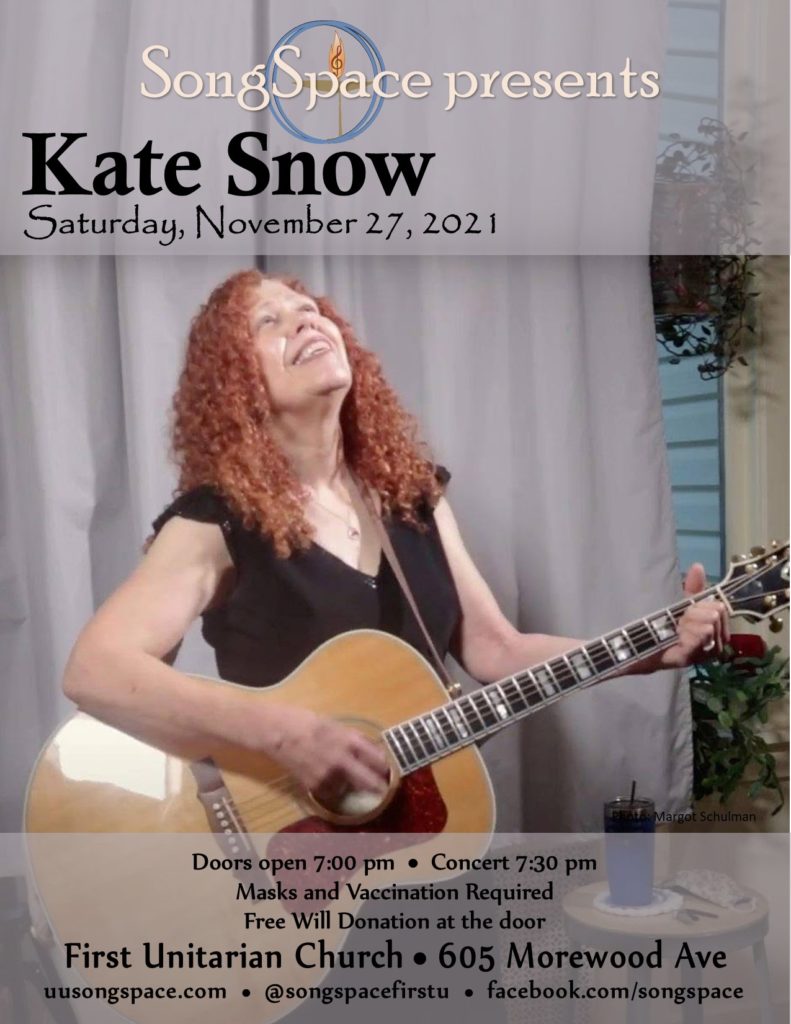 Kate Snow is not only a member, leader and friend in our church, she is also a singer-songwriter-guitarist, who moved to Pittsburgh from the West, where she was a regular at coffeehouses and folk festivals.
She has been a member of the Pittsburgh Songwriters Circle since 2004. Her songs have been described as "poetry that touches the deepest human feelings" and her voice as one "that really speaks to the heart…a unique and wonderful talent."
The title of her one-woman show, Strange Power, comes from a Cormas McCarthy quote, ""Scars have the strange power to remind us that our past is real." It is the story of her life, told through song, that captures the joy, sorrows, and trials of a life lived deeply and authentically.
Some comments about "Strange Power:"
"Your honesty, bravery, & openness are balanced by your generosity of spirit. The strength of your love of family shines all through the vagaries of your life. The passionate performance of your songs supports the dialogue and moves along the sometimes painfully raw story."
"It was fascinating to hear your story, told through song and words, and with such candor and honesty — it was truly inspiring…"
"What a wonderful storyteller you are and what an incredible journey you took us on."
"Your stories were so raw and honest and truly touching."
Saturday Nov 27, 7:30pm
all ages
Free-will donation.
We require masks, vaccination cards and contact information (e.g. email), should contact tracing become necessary.
First Unitarian Church of Pittsburgh, Shadyside
605 Morewood Avenue, Pgh., 15213.
All ages; wheelchair accessible.
For more information, 412.621.8008,
uusongspace@gmail.com or uusongspace.com