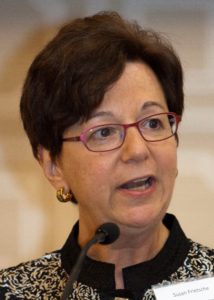 Women's Alliance welcomes Susan Frietsche, Senior Staff Attorney and Western PA Director for the Women's Law Project. Founded in 1974, Women's Law Project is a nonprofit public interest legal organization working to defend and advance the rights of women, girls, and LGBTQ+ people in Pennsylvania and beyond.
Currently, a group of Pennsylvania-based abortion providers represented by attorneys from the Women's Law Project; law professor David S. Cohen; Planned Parenthood Federation of America; and a private law firm filed their opening brief with the Pennsylvania Supreme Court in the case of Allegheny Reproductive Health Center v. Pennsylvania Department of Human Services, are asking the Court to strike down the Pennsylvania ban on Medicaid coverage for abortion.
Please email Alice Carnes alice.carnes51@yahoo.com for the Zoom invitation.
Women's Alliance meets on first and third Thursdays on Zoom at 10:30 a.m. for a
30-minute business meeting.