If you're reading this, it means we've launched the new website for First Unitarian Church of Pittsburgh.
Once you get familiar with the new look and organization, the site should be easier to use.
There are three main reasons for redesigning the site now:
We want to improve the site's ability to reach and attract prospective members.
We want to make it easier for members to share information about church-related activities.
And, frankly, we want to put our best face forward for ministerial candidates.
The new design is based on a template from the Unitarian Universalist Association. We have carried over most information from the previous site, reorganized some of it, and added some new information. There is a new section to help you keep track of the ministerial search.
We've simplified the main navigation links. Unlike the previous site, the main navigation lists only primary pages and topics. You can find links related to each main topic on the left side of each page within that topic (Illustrated below).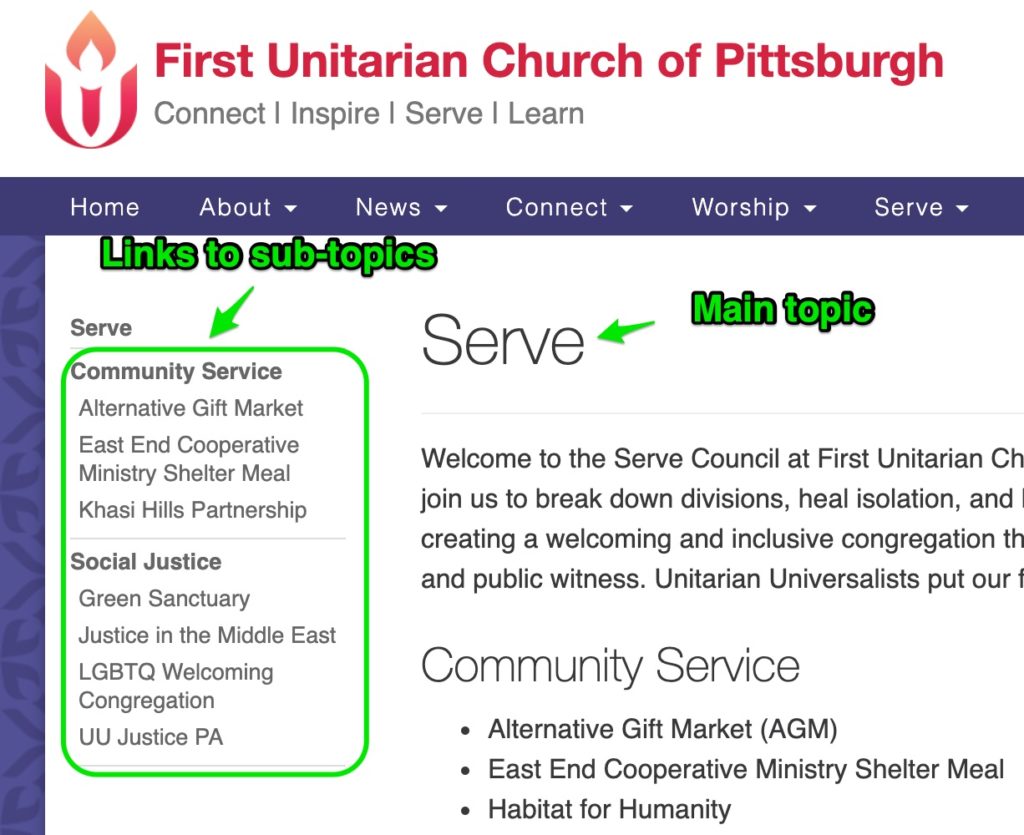 The new site includes easy-to-use forms to submit information for the church calendar of events and for announcements or reports about committee activities and other happenings. We're asking all church committee leaders to regularly contribute events, news and other updates. The site includes familiar forms for pledging and making donations.
New websites often are a little "buggy" despite best efforts to make sure everything is perfect. If you find typographical errors, links that don't work, or other issues as you browse the new site, please send an email describing the problem and a screenshot, if possible, to webteam@first-unitarian-pgh.org.