Libraries
Main Library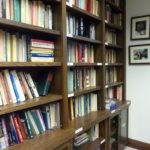 The main Library is located on the lower level of the church across from the Undercroft Gallery. The books in the library (which is always open) may be borrowed by members of the church and returned in a timely manner.
Subjects include:
theology,
bible studies,
the history of Unitarianism and Universalism,
biographies,
women's studies,
social issues,
meditation manuals,
poetry
and much more.
Children's Library
We have an extensive collection of children's books housed in bookshelves in the Mason Wing Hallway. Checking out material is simple! Visit often!
We will gladly accept donations of new reading material from the UUA Bookstore, InSpirit. Please see the Lifespan Religious Education Director for details.