East End Cooperative Ministry Shelter Meal

The East End Cooperative Ministry (EECM) is dedicated to helping vulnerable adults and at-risk children and youth throughout our Pittsburgh Neighborhood. As an interfaith ministry, EECM seeks to make a difference in the lives of the individuals and families it serves by tending to their needs for today as well as their hopes for tomorrow.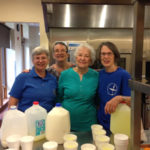 First Unitarian Church has a regular commitment to cook and serve a meal for those at the shelter on the first Sunday of the month. To volunteer your group (4-6 people) or yourself to prepare and serve a meal, please contact the EECM chairperson.
---
---
Shelter Meal Updates
Meal Delivered to Homeless Shelter
The First UU of Pittsburgh EECM team delivered its monthly meal to the EECM shelter in East Liberty on Sunday, Sept. 6. The menu included roasted chicken, roasted potatoes, 3-bean salad, and Klondikes for 50 people. We ...
Read more