Khasi Hills Partnership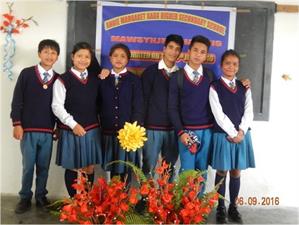 Our congregation has been in partnership with the Annie Margaret Barr Secondary and Higher Secondary School in the village of Kharang in the Khasi Hills of North East India since 2003. This is a Unitarian-run rural school in the poor tribal state of Meghalaya, where there is little access to public education. This school is able to serve over 300 students, having more than doubled in size since our partnership support began. The school is open to students of all backgrounds.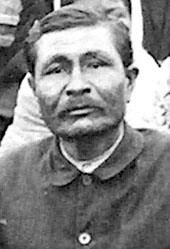 History of Unitarians in the Khasi Hills: Unitarianism in Khasi Hills is a home-grown faith founded by Hajom Kissor Singh in 1897 when he celebrated the first church service in his house with three others in attendance. Hajom Kissor Singh discovered Unitarianism through questioning his Methodist faith which came to him from missionaries converting those from the indigenous Khasi Seng tribal religion. Through sharing his own spiritual ideas with others, he was told by a Hindu reformer about the Unitarian minister, the Rev. C. H. A. Dall, then working in Calcutta, to whom he wrote, obtaining a copy of William Ellery Channing's works. He recognized his own beliefs in the materials which inspired Singh to found the Unitarian faith in this predominantly Christian area of India. With over 35 churches, it is the fourth largest Unitarian community in the world. Learn more.
History of Our Partnership: Our involvement with Khasi Hills began initially through a Religious Education cultural exchange program with the Unitarian Church in Jowai. We participated in a Sponsor-A-Student program from 2003 through 2012 for the Annie Margaret Barr Higher Secondary School in Kharang and then funded minor capital improvements. In 2015-2016 we funded the launching of the Higher Secondary School so that children could graduate high school near their village rather than traveling to the state capital. In addition to supporting the school, a student of our campus ministry co-founded and built the orphanage, the Children's Village. The more recent focus is raising $10,000 annually to fully fund two teachers at the Higher Secondary School until accreditation is reached and government funding kicks in.
Beyond financial support, our partnership is rooted in mutual cultural exchange and inspirational support. Several church members have embarked on pilgrimages to the Khasi Hills, and we have hosted guests from India multiple times. The Khasi Hills Partnership Team has organized multiple events including recognition of Anniversary Day which is the founding of Unitarianism in the Khasi Hills, Shad Suk Mynsiem which is a tribal cultural spring festival in which our Khasi siblings participate, and also cultural holidays of India including DiWali Festival of Lights and Holi Festival of Colors. A highlight is hosting an annual church service, Khasi Hills Partnership Sunday, which includes inspiration from our Khasi Hills siblings in spirit.
Donate using the Drop Down menu for Khasi Hills Sponsorship.
Khasi Hills Updates
Meet Khasi Hills Guests This Sunday, March 26
Congregation members are invited to meet Reverend Nangroi Suting and Barri Mukhim and hear an update about the school we sponsor by visiting the next Khasi Hills Team meeting. It will be on SUNDAY, MARCH ...
Read more
1st: Our church has been supporting the Annie Margaret Barr Secondary School in Kharang in the poor, rural Khasi Hills of India since 2003. We hope you will help us to support the two teachers ...
Read more
Khasi Hills Partnership Focuses on Cultural Exchange, Financial Support
Cultural exchange as well as financial and inspirational support is the focus of the Khasi Hills Partnership Team activities. Our church has been on the forefront of introducing U.S. congregations to authentic Khasi Hills traditions ...
Read more
Khasi Hills Anniversary Day Scenes
Direct from our friends in India are scenes from the 137- year founding of Unitarianism in the Khasi Hills. We recognized their Anniversary Day at our September 18 service and highlighted their community practice of ...
Read more
Celebrating Khasi Spring Festival and Our Partnership
Hear about the indigenous roots of our Khasi Hills Unitarian sisters and brothers in India, including the spring festival, Shad Suk Mynsiem. Nandanik Dance Troupe will be performing, culminating with a festival dance in the ...
Read more