Khasi Hills Partnership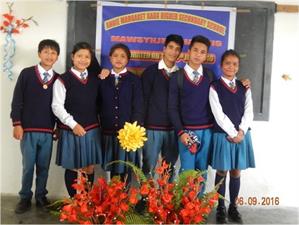 Our congregation has provided financial sponsorship support each year since 2003 for the Annie Margaret Barr Secondary School in the Khasi Hills of Northeast India. We also support the Higher Secondary School that we helped build. This is a Unitarian-run rural school in the poor tribal state of Meghalaya, where there is little access to public education. This school is able to serve nearly 300 secondary students, having more than doubled in size since our support began. Our church has raised $5000 to $10,000 annually to support our India partners, and designated contributions can be made using the Donate link of the website. The partnership also encourages participating in UU pilgrimages to the Khasi Hills.
Khasi Hills Updates
Thanks from Khasi Hills School
The Khasi Hills Partnership team would like to share this greeting from our main contacts in India. Nangroi Suting and Barri Mukhim have visited our church on a number of occasions, in person and virtually. We ...
Read more
The Khasi Hills Partnership team received this photo greeting from our contact in India. Our Khasi Hills school management contact, Barri Mukhim, wrote "Today is a harvest Thanksgiving of our Khasi Tribe." Barri wrote in response ...
Read more
The Founding of Khasi Hills Unitarians in India
Every September, Founders Day is celebrated in the Khasi Hills. We've been asked about the founding many times by curious congregation members, "how did Unitarianism become a stronghold in this very rural remote part of ...
Read more
Khasi Hills 2021-2022 School Sponsorship Project Outreach
Our goal continues to be to support the two additional teachers that were needed following the inauguration of our new Higher Secondary School in June 2016. We've raised $9600 for two teachers' salaries ($4800 each) ...
Read more
Khasi Hills Zoom Call a Success!
The Khasi Hills team was pleased to have 15 participants in our first India Zoom visit open to the congregation held on May 23. In addition to hearing from our liaison, Barri Mukhim, we heard ...
Read more